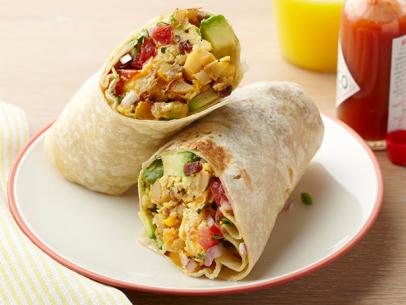 Breakfast Burrito 
{Serves 4}
---
Ingredients:
3 Tbsp. jalapeno pepper, seeded and finely chopped( use bell pepper for less heat) 

1 large tomato, diced 

 ¼ cup green onion, chopped 

¼ cup reduced-fat shredded cheddar cheese 

3 whole eggs 

4 egg whites  

1/8 tsp. salt (optional) 

1/8 tsp. ground black pepper  

4 large whole wheat tortillas, warmed 

4 Tbsp. salsa
---
Directions:
In medium bowl combine the first 8 ingredients.                

Coat a non-stick skillet with cooking spray and heat over medium heat.

Add egg mixture. Cook without stirring until egg mixture begins to set on the bottom. 

Draw a spatula across the bottom of the pan to form large curds.

Continue cooking until egg mixture is thick but still moist; Do NOT stir constantly.

Fill one tortilla with ¼ of the egg mixture and 1 Tbsp. salsa.

Fold tortilla to form a burrito. Repeat process for the remaining 3 tortillas. 
---
NUTRITION INFORMATION
Calories:  275  Total Fat: 2.4 g Calories from fat: 22  Cholesterol: 165 mg. Carbohydrate: 33 g  Fiber: 5g