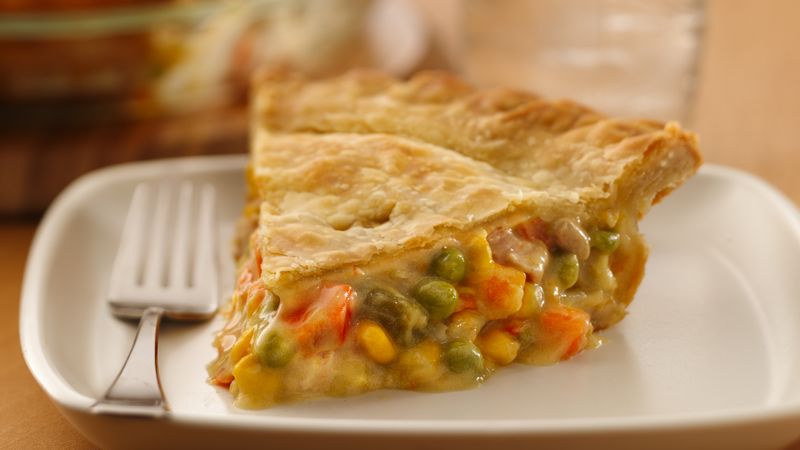 Chicken Potpie
---
INGREDIENTS
FILLING
2 teaspoons canola oil, divided

1 cup frozen pearl onions, thawed

1 cup baby carrots

10 ounces  mushrooms, halved

2 ½  cups reduced-sodium and low-fat chicken broth, divided

¼  cup cornstarch

2 ½  cups diced cooked chicken, or turkey

1 cup frozen peas, thawed

1/4 cup reduced-fat sour cream

¼  teaspoon salt (OPTIONAL)

Freshly ground pepper, to taste
BISCUIT TOPPING
¾  cup whole-wheat pastry flour

¾ cup all-purpose flour

2 teaspoons sugar

1 ¼  teaspoons baking powder

½  teaspoon baking soda

½  teaspoon salt (OPTIONAL)

1 teaspoon dried thyme

1 ½  tablespoons cold butter, cut into small pieces

1 cup nonfat buttermilk

1 tablespoon canola oil 
---
Directions:
To prepare filling:
Heat 1 teaspoon oil in a large skillet or Dutch oven over medium-high heat.

Add onions and carrots; cook, stirring, until golden brown and tender, about 7 minutes.

Transfer to a bowl. Heat the remaining 1 teaspoon oil in the pan over medium-high heat.

Add mushrooms and cook, stirring often, until browned and their liquid has evaporated, 5 to 7 minutes.

Return the onions and carrots to the pan. Add 2 cups broth and bring to a boil; reduce heat to a simmer.

Mix cornstarch with the remaining ½  cup broth; add to the pan and cook, stirring, until the sauce thickens. Stir in chicken (or turkey), peas, sour cream, salt and pepper.

Transfer the filling to a 2-quart baking dish.
To prepare biscuit topping:
Whisk whole-wheat flour, all-purpose flour, sugar, baking powder, baking soda, salt and thyme in a large bowl.

Using your fingertips or 2 knives, cut butter into the dry ingredients until crumbly.

Add buttermilk and oil; stir until just combined.

Drop the dough onto the filling in 6 even portions.

Set the baking dish on a baking sheet.
Cook:
Preheat oven to 400°F.

Bake the potpie until the topping is golden and the filling is bubbling, 30 to 35 minutes.

Let cool for 10 minutes before serving.